Keeping you safe on board our buses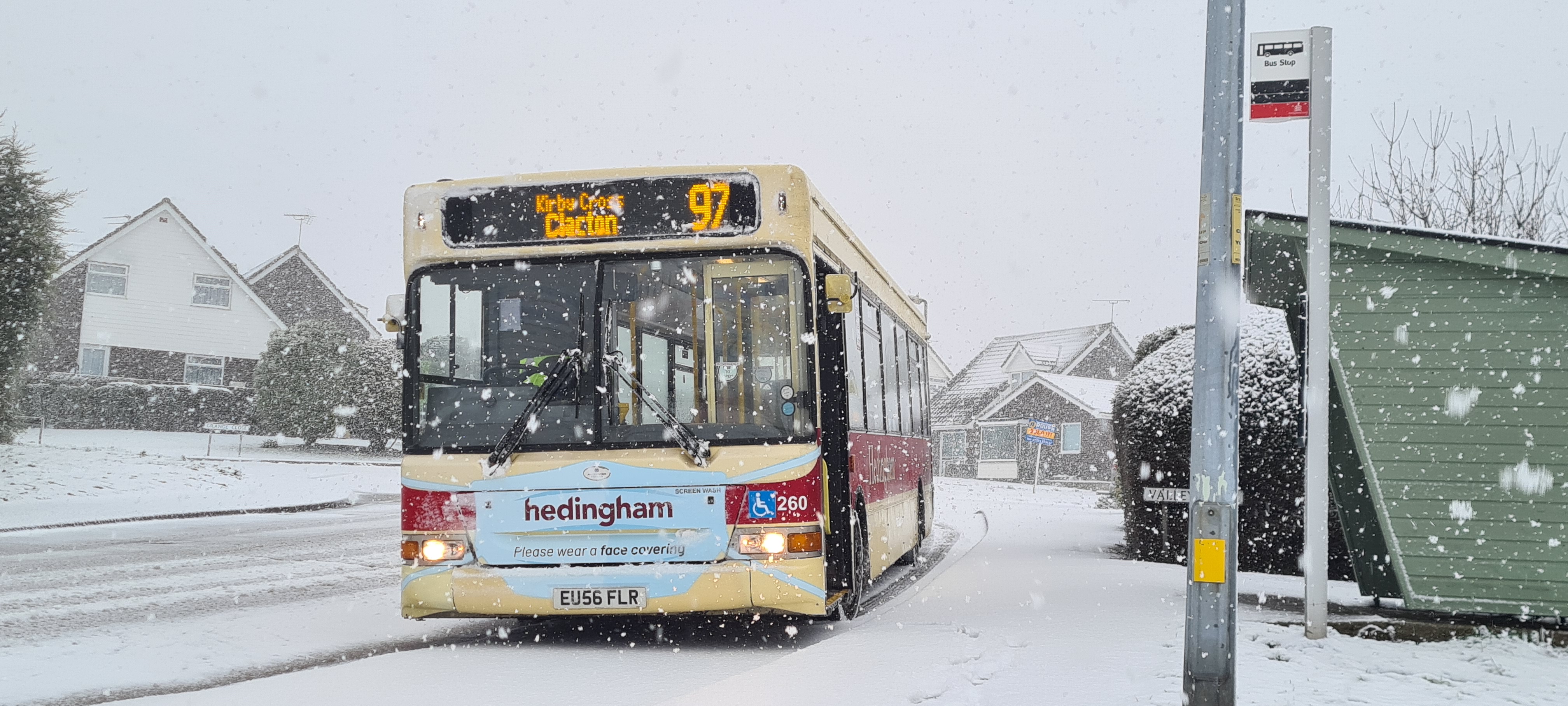 Travel with confidence on our buses. We continue to keep you safe as you travel by bus.
We would like to reassure our customers that we will continue to keep you safe as you travel by bus.
We therefore ask that you:
Continue to wear a face covering when travelling - this is now mandatory on all our buses including school buses
Keep a safe distance away from others
Sanitise your hands with our on-board units as you enter and exit the bus
Continue to pay contactless or buy your ticket in advance on our app if you can
Keep the windows open to keep the air flowing freely
Check how busy your bus is before it arrives on our app.
We are keeping our buses clean and ready to go, helping you get to where you need to be.
Why not remind yourself just how and watch our video - Cleaner, Safer Buses
Remember to plan your journey before you leave the house, which you can do by downloading our new Hedingham and Chambers app.
You can set your routes, track your bus and see how many seats are left before it arrives at the bus stop.

Should you have any questions, please contact us on 03301 020801 or services@hedingham.co.uk.
#staysafe #handsfacespace
Face Coverings

In line with guidance from the government, you must wear a face covering if you are over the age of 11 when travelling by bus. Medical exemptions apply – please remember that exemptions such as asthma and autism are not visible.

Pay Contactless

Please pay by contactless or use the Hedingham and Chambers app to pay for your journey in advance. If you still need to use cash, please use the correct change.

Download the app

Hedingham and Chambers App

Choose to travel on the quieter buses for your comfort, safety and peace of mind. Our app gives you the information you need when planning your next bus journey – including the latest timetables and up-to-date capacity predictions on a stop-by-stop basis.
Frequently asked questions
Who may and may not travel?
Our buses are available to everybody who wishes to travel and we welcome you on-board.
Some routes and journeys which serve schools are not available to the general public. Read more information on school journeys.
What if I'm disabled and require assistance?
We want to reassure you that you will continue to receive the same level of support as you have done before and that our buses are safe for you to travel on. If you use a wheelchair or approved mobility scooter, our drivers will make sure that you can still board in a safe and socially distanced way. If you need to travel with a pushchair, we are happy to accept these on our buses as before.
What steps will you take to maximise social distancing and how can we help?
We ask that you sit by the window and keep a safe distance from others travelling on the bus, unless they are with you.
Keep windows open to allow fresh air to flow freely
Do I need to wear a face covering?
Yes, from Tuesday 30th November, the government has advised that if you are over 11, you must wear a face covering in busy, enclosed areas including shops and public transport.
What additional cleaning is being carried out?
Our buses are being cleaned daily, and sometimes more often, with touch points being wiped down with anti-viral spray to ensure your safety. Find out more about what we're doing to keep your journey as safe as possible.
Is hand sanitiser available on board?
Yes, all our buses now have hand sanitiser units installed for you to use as you travel on our buses.
When is the best time to travel?
To avoid crowding, we suggest you travel in the off peak. Our Hedingham and Chambers app allows you to plan your journeys and look up how busy each bus will be, even down to individual bus stops.
Can I pay with cash on the bus?
We ask that you ONLY pay with cash if you have no other option and use the exact change.
Where possible, use contactless payments or buy your ticket in advance on the app instead.
How can I get in touch with you?
You can call us on 03301 020801, email services@hedingham.co.uk or contact us via Twitter if you have any questions regarding your journey.
We all have a responsibility to follow the Government advice and we thank our customers for their support and cooperation.
Covid 19 Risk Assessment Policy
Hedingham and Chambers Bus / #keepingyousafe