Seasiders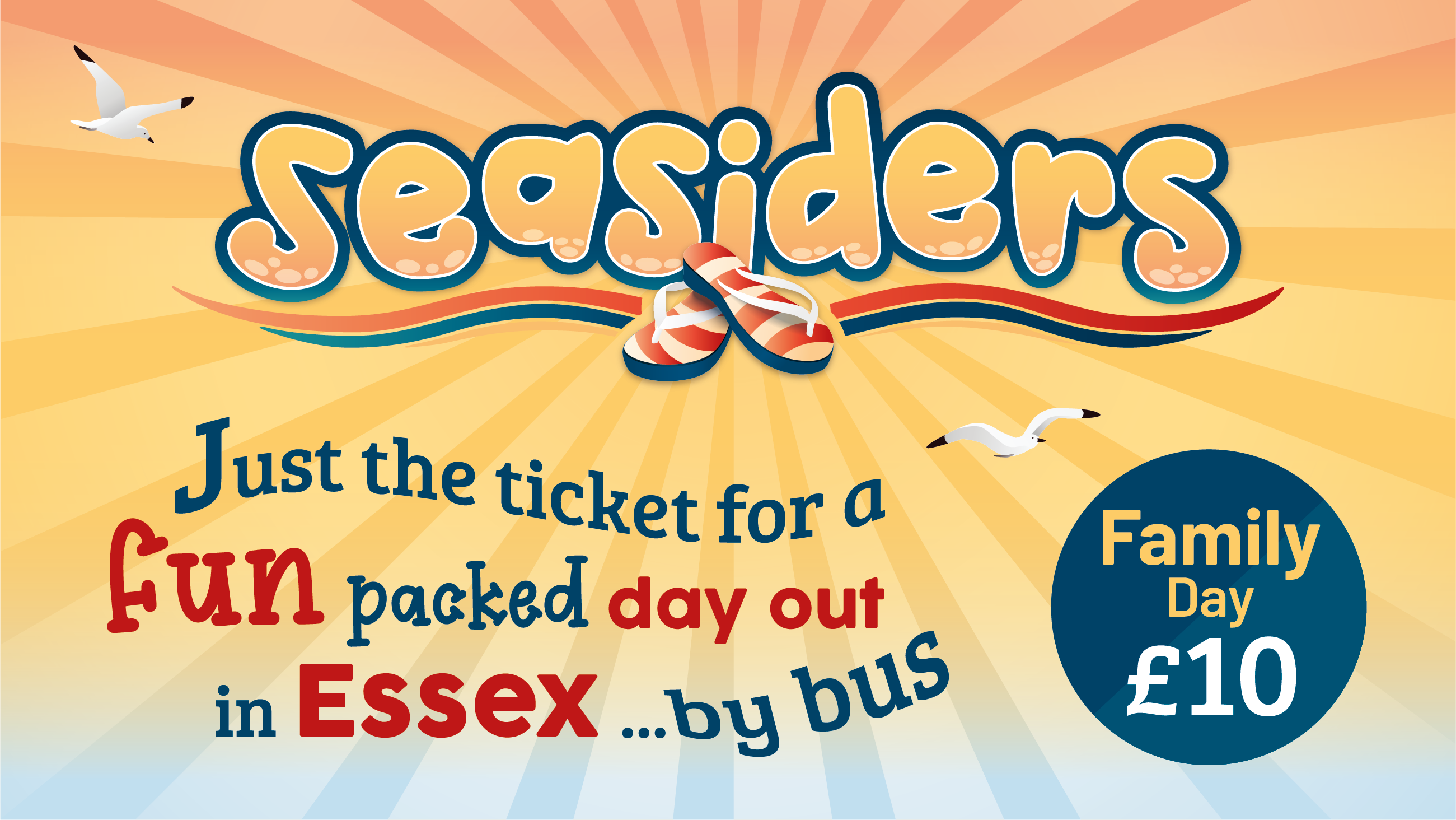 Enjoy an unlimited day's bus travel
Whether you fancy a day at the beach, a stumble through the past or shopping in Colchester, family fun in Clacton at the Pier and Pavilion, a ride on the Clacton Breeze open top bus, a wild trip to Colchester Zoo, or a maritime adventure in Harwich.
Seasiders really is the best way for you to get out and about this summer.
With many great attractions, places, parks and sights spread out right across Essex, our comprehensive network of buses allows you to sit back, relax and let us take care of the driving, whilst you enjoy your summer stay-cation.
Our buses run up to every:
15 minutes between Walton on the Naze and Clacton

30 minutes between Colchester from Halsted

60 minutes between West Mersea and Colchester

60 minutes between Harwich and Clacton

60 minutes between Colchester and Tollesbury.
What's more, your ticket allows you to hop on and off our buses throughout your journey so you can make the most of your day out.
Still not sure, watch our film and see what great places we can take you too.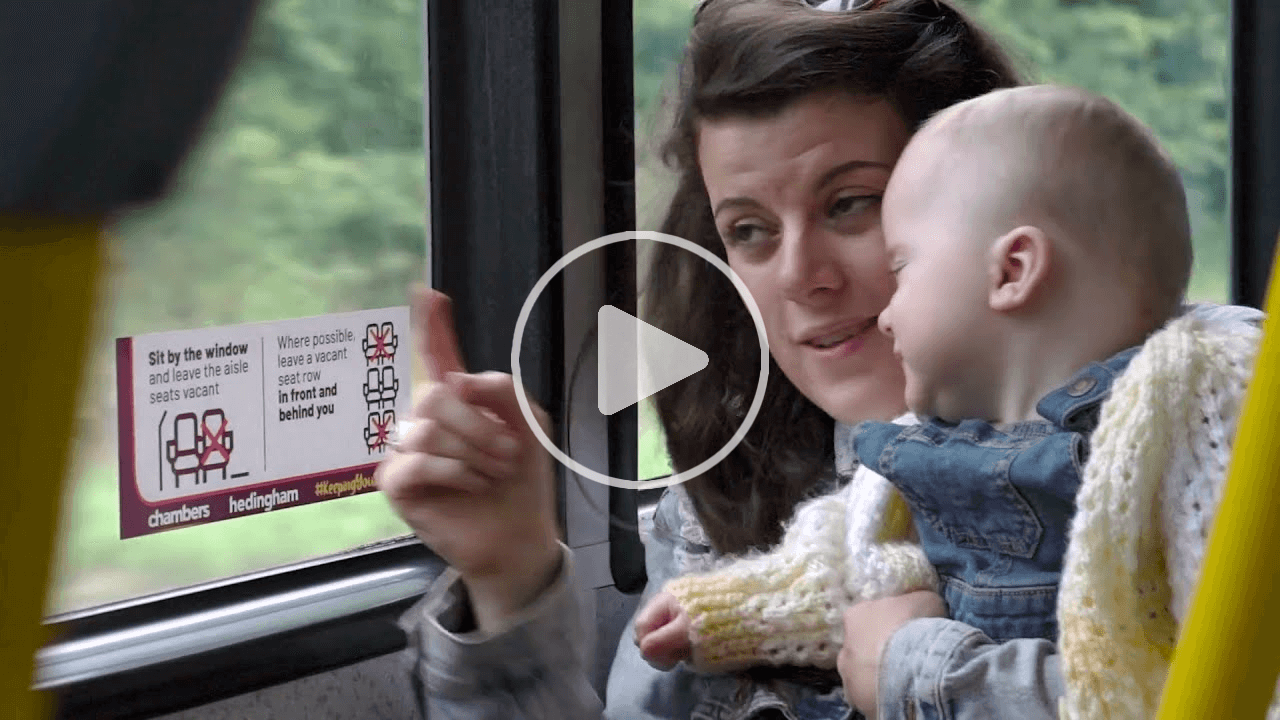 What tickets are available?
Seasiders Day
| | |
| --- | --- |
| Family Day * | £10 |
| Adult Day | £6.50 |
| 16-19 Day | £5.20 |
| Child Day | £4.30 |
* 1 adult & up to 4 children or 2 adults & up to 3 children travelling together in a group - not available before 0900 on schooldays.
Seasiders Weekly
Staying Longer? Buy a weekly ticket and head out a little further to see what the Essex sunshine coast truly has to offer.
| | |
| --- | --- |
| Adult Weekly | £20 |
| 16-19 Weekly | £16 |
| Child Weekly | £13 |
Adult 30 day and Annual tickets are also available to purchase online or on our app.
How do I purchase?
Where can I travel to in Essex with a Seasiders ticket?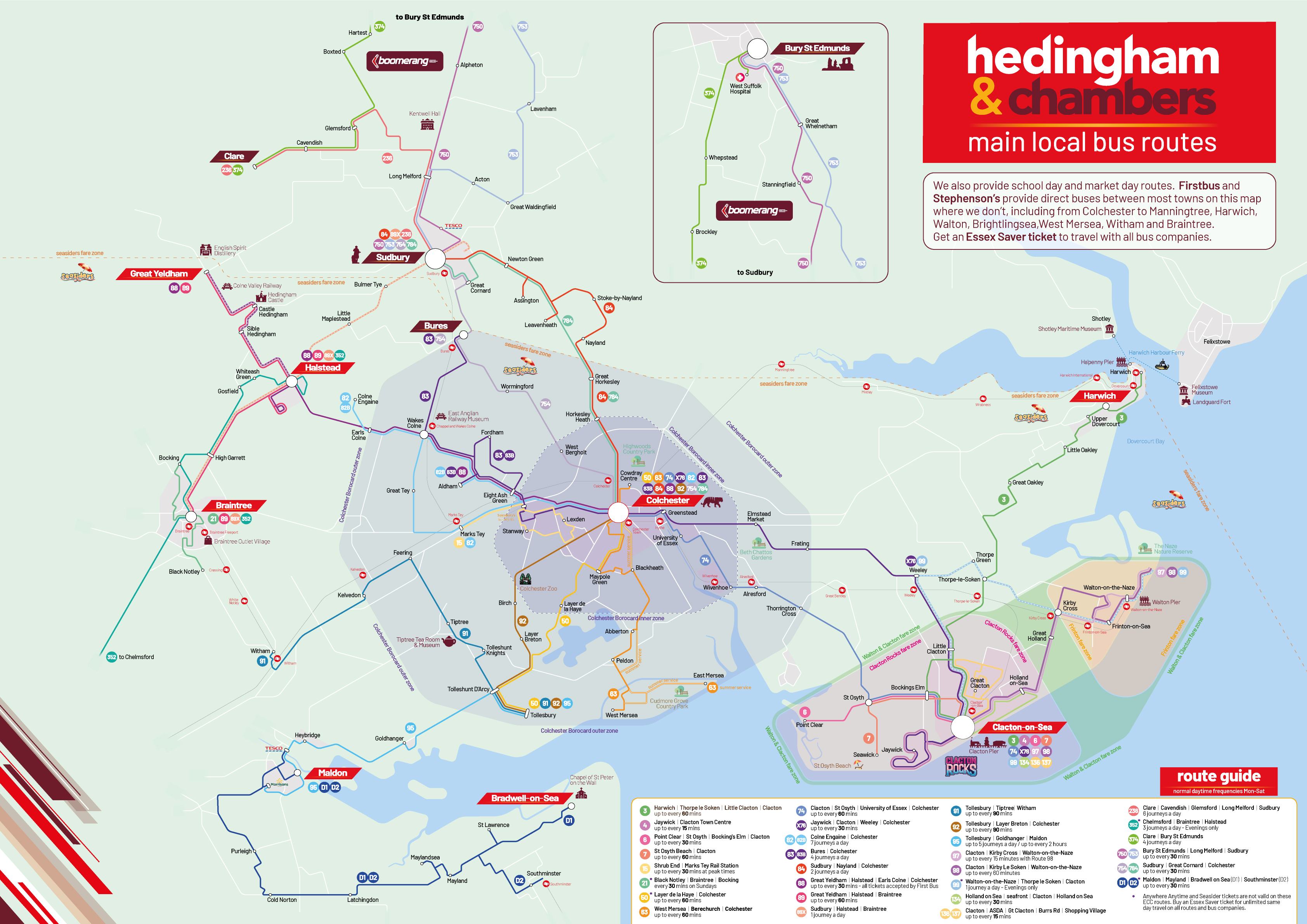 It is valid on Hedingham routes; 3 (all route between Clacton and Harwich), 4 (all route between Great Clacton/Bockings Elm and Jaywick), 5/5A (all route in Bockings Elm), 6 (all route between Clacton and Point Clear), 7 (between St Osyth and Clacton), 15 (all route), 16/16A (all route), 19 (all route), 63/63A (all route between Colchester and West/East Mersea), 74/76/X76 (all route between Jaywick, Clacton and Colchester), 82/82A/82B (all route between Colne Engaine and Colchester), 83/83A/83B (all route between Bures and Colchester), 88 (all route between Great Yeldham and Colchester), 89 (all route between Great Yeldham and Braintree), 89X (between Braintree and Little Maplestead), 97/98 (all route between Clacton and Walton on the Naze), 134 - The Clacton Breeze Open Top Bus (all route Clacton circular via Holland), 135 (all route Clacton circular via Bockings Elm) and 136/137 (all route Clacton circular via Great Clacton).

Please note that the Seasiders zone is not valid on Essex County Council sponsored routes e.g.21, 50/50A, 50B, 69/69A, 79, 84B, 85, 99, 345, 352, D1 and D2, and school routes 901, 902, 903, 904, 910.